Travelling through western Wollega and Beni Shangul from Gambela to Bambesi, I make some inquiries with the assistance of Getinet. In a number of localities, we try to find out what people remembered about the last visits of the Fellata to the region. We also meet a Pullo who had become the hired herdsman of a local Oromo sheikh. The picture that emerges of the migratory routes of the Mbororo are more differentiated that the one conveyed to us by our Gambela informants. The attitudes of the local people towards the Fellata correspond closely to what has been reported for Gambela.

Overnight stay in Shabal (a stopping-place on the way to Bambesi via Dambi Dolo [Dembi Dolo on map 1, map 2 and map 5; see entries for the following days).
Map 5: Part of a trip from western Wollega to Beni Shangul, undertaken in winter 2001 (waypoints 031 - 032, 062, 070, 077, 085, 091, 093, 097, 101, 112, 116)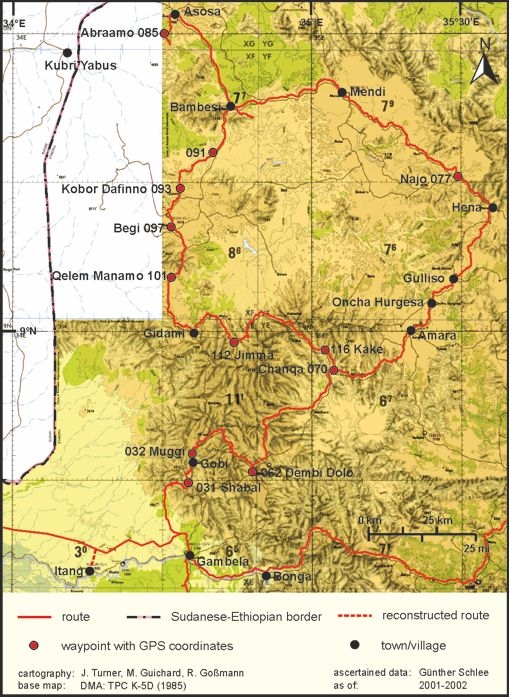 Move mouse over the waypoints to see GPS coordinates.
Waypoint 031


Lat. 8° 29′ 16.79″ N / Long. 34° 35′ 3.52″ E

Shabal

"Mbororo passed through here about five years ago. I saw two groups of about 50 persons, including women and children. They were travelling off-road through the forest. Their household items were loaded on donkeys and oxen. They stayed for some time below Shabal and then turned north-west through the lowlands, in an area called Anger. People mistrusted them because of their magic and, therefore, did not buy milk from them."